OUR LIFE IN NORTH CAROLINA
OVERVIEW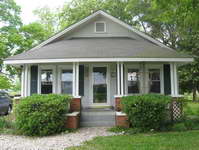 In the cooler seasons we are located at 5150 Project Road, Ash, NC. When purchased, the house came with 2.5 acres, but we have since bought the adjacent 13 acres. We have lots of fun "playing" on all the land. From the front porch we can often see gorgeous sunsets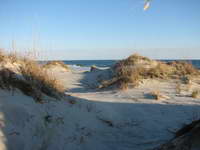 Ash is located in southeastern North Carolina. We chose to live hear because we like living in the farm country, and really enjoy having three different beaches a half hour away. We try to get to a beach a couple times a week. And we don't limit ourselves to these beaches; North Carolina has many amazing beaches and we are doing our best to visit them all.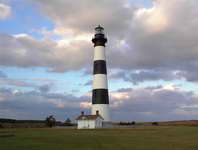 Along the coastline there are a number of lighthouses. Most are on the Outer Banks. North Carolina in general, and the coast in particular, is home to many indiginous bird species. This has prompted Dick to create a website for Carolina birds. We are also collecting pictures of other wildlife and plants,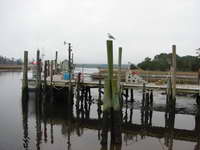 We enjoy the close by town of Calabash for its world famous sea food. We consider Southport, 45 minutes from our house, to be the Rockport of North Carolina. Wilmington, an hour away, might be where we end if if/when we lose our ability to drive. It has the benefits of a city without many of the disadvantages, plus Wilmington is close to beaches. Other points of interest in the area are: Fort Fisher and Acquarium and Fort Macon.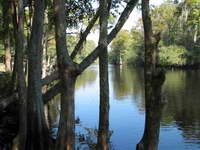 On our to-do list, is to visit more North Carolina State parks. We were very impresesed with the wild scenery at Lumber River State Park.

.