OUR LIFE IN NORTH CAROLINA
NORTH CAROLINA BEACHES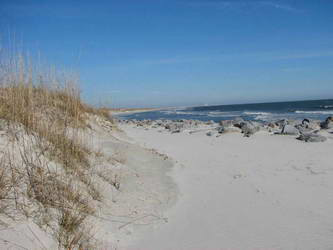 A major reason we chose to live in Ash is that it is in Brunswick County which has four great beach towns. Proceeding up the coast from the South Carolina borderare located: Sunset Beach, Ocean Isle, Holden Beach, and Oak Island. The corresponding beaches are all on islands which fortunately can be accessed via bridges which cross over the Inner Coastal Waterway. Oak Island is 45 minutes from our house, while the other three islands are only a half hour away. Because of their beauty and proximity we try to visit a beach at least a couple of times per week.
Liking the ocean as we do, we don't limit ourselves to just the beaches of Brunswick county. North Myrtle Beach, even though it is in South Carolina, is less than 45 minutes from Ash, NC. A little further south brings you to Myrtle Beach, world famous for is activities and crowded beach.

Bald Head Island is the other extreme from Myrtle Beach - cars aren't allowed. Bikes and golf carts are the transportation du jour. We love Topsail Island for the ocean polished rocks it has.

The Outer Banks are five hours from our house, so we don't get there very often. When we do go there, Ocracoke Island is our favorite.