The main purpose of this trip was to attend Cindy and Chris's wedding in Big Sur on October, 13. Sandy and Dick flew from Raleigh, NC to Santa Barbara. Heather flew there from Manchester, NH. We drove north to Big Sur. There we met Matt; Dave & Linda; Rick, Michelle, Ricky, and Randy. While in Big Sur we stayed in cabins at the Big Sur Cabin and Campgrounds. After the wedding Dave and Linda went to see Eric and Cheryl. The rest of us continued to the outskirts of San Francisco.
The following pictures are arranged in order from South to North. They are not in chronological order.
Garcia Beach State Park

San Luis Obispo

Julia Pfeiffer Burns State Park

Randy Michelle Rick Ricky at Julia Pfeiffer Burns State Park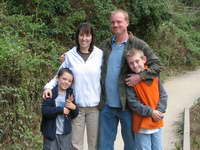 Big Sur Cabins and Campground
We stayed Thursday night and Friday night at cabins in this campground. From the campground it was only a short drive to the Ventana Inn where Cindy and Chris's wedding was held.

Dick, Sandy, Heather, and Matt were in one cabin; Dave and Linda in the second; Rick, Michelle, Ricky, Randy in the third.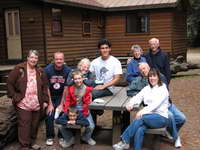 North of Big Sur

Point Lobos State Reserve


Red Ginger Resturant
On Saturday we drove north to Half Moon Bay. A little past there is the Red Ginger Restaurant. Cindy has a part ownership in the restaurant so we decided that a fitting place to dine.
Shown below are: Rick, Sandy, Rachael Sorlein, Doug Pineo, Heather, Matt, Susan Forkin (Matt's mom), Randy, Michelle, and Ricky. Rachael is a Sandwich NH native working for Americorp in San Mateo. Doug is Heather's uncle who was in San Francisco for a conference.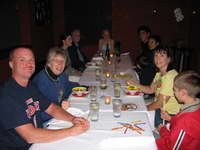 After dinner, Dick & Sandy, Heather & Matt stayed at the Forkin's house in San Mateo.
Sunday we dropped Matt off at the San Francisco airport early in the morning. We then took Freeway 101 most of the way to Santa Barbara. Tiring of the freeway, we returned to Highway 1 south of San Luis Obispo. A very good time was has at Garcia State Park (see pictures near the top of page). Later we walked along the beach at Santa Barbara, looked at artists' displays along the beach way. We took a walking tour of UC at Santa Barbara, after which we dropped Heather off at the airport.
Monday morning Dick and Sandy also flew out of Santa Barbara Airport.