Monday, August 22, 2011- Homer to Cooper Landing

After a stop at Two Sisters Bakery for some goodies for lunch, we were on our way about 9. Dick got one last shot at the baby eagles who had fledged yesterday. Rain met us just outside of Homer. We stopped to see a salmon river (where the Kenai met the Russsian River) and saw a good few red colored salmon struggling upstream against strong currents. Because of a shore plant conservation project, we couldn't walk along the river, but could go down several stairways and could easily see the fishermen on the opposite side of the river pulling in many salmon and letting the small ones go. We had lunch in the parking lot (and my pastries from Two Sisters Bakery were outstanding- especially the turtle bar).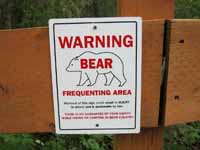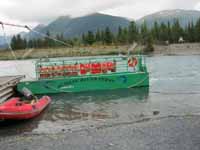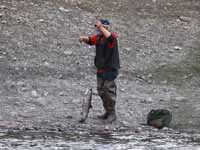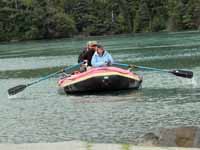 From there our next stop was The Hutch, the B&B in Cooper's Landing that we were staying the night at. It's still a lovely hotel with liquid soap, shampoo and lotion in the bathrooms and two common areas with fridges and TV's with both DVD and VCR built in. There's also a cooler of soft drinks on the front porch, and coffee always available in the office area as well as at least twenty types of tea. At night the hosts build a campfire in a back building and guests can sit around and swap stories, especially the many fishermen who stay there.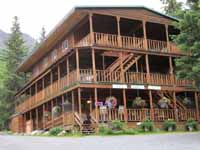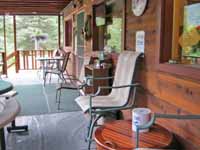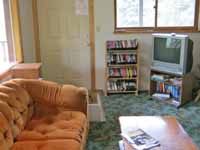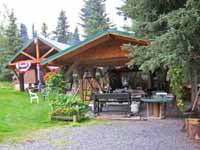 We got organized and the adults walked to the Prospector John's Gold Mining operation. Michelle and I were the designated gold miners, so we got three buckets of sand dug from a local creek, the buckets filled by Michelle. After a bit on instruction on how to use the sluice (turn the water on until you see bubbles over the first ridge, put a scoop full of sand into the flow, move the sluice back and forth and look carefully for specks of gold which are 18 times as heavy as the rest of the material and settle into the grooves of the first section of the sluice.) The sluice was a narrow downward sloping construction that had grooved sections alternating with carpeted areas designed to catch any gold not caught in the grooved areas.

When you saw a flake of gold, you stopped the water flow, picked it up with tweezers and deposited it into a little pan with water which was attached by a magnet to the counter the sluices were mounted on. To our amazement the gold flakes were there. Michelle found the first one and we were off. By the end I had found about 25 flakes in the two hours we spent at it. When we had gone through our three buckets, the woman working there took off our sluices, washed them thoroughly in a bucket and we panned for any remaining gold that had escaped our initial sluicing. I found four more flakes and we were happy to call it a day.

The boys had not originally opted to come, but Grampa Dick walked back and drove them to the mining area. Randy helped Michelle, then went digging in the sludge in the minerals trough and found quite a few very small minerals in the strainers. I did it a little myself while Michelle was finishing up the third bucket. When we were completely finished, the woman carefully put our gold flakes into small glass vials and we each chose a small garnet to include for contrast. It was really fun and will be a well remembered part of this Alaskan trip.

Behind the mining area was a place where a man was preparing logs for cabin building and Rick and Dick talked to him about log cabin construction for quite a while.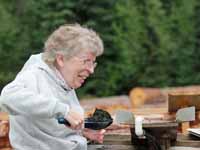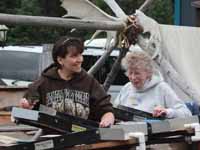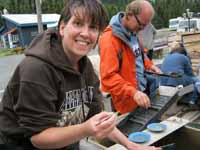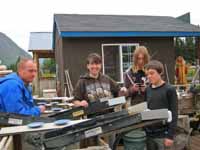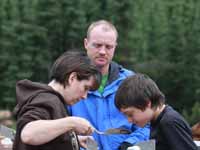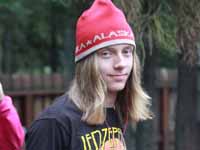 We relaxed at the hotel for a while, then headed to a small restaurant about three miles back and had pizzas, and turkey and grilled cheese sandwiches. Then we headed to the camp fire where a lot of the talk was about where in Texas a lot of the people seemed to have come from. A large group of people were having a party at the cook out building next to it.

We chose a movie- Cops and Robertsons- and went up to the common room to watch it. Ricky didn't come up and Rick left early to go to bed (like the fishermen in the other rooms on our floor) but the rest of us stayed till the end and enjoyed it. The weather had been better than we anticipated on our drive to Cooper Landing and the day a big success.

Tuesday, August 23, 2011- Cooper Landing to Anchorage

Everyone was up and ready to go after a great Continental breakfast of muffins, bagels, toast, cereal, peaches, yogurt, applesauce, juices, and coffee and tea. Fortified, we ventured out into the rain to head for Anchorage on the final leg of our journey.

The drive took about two hours. At a rest stop we decided to go to the Anchorage Zoo which specializes in animals found in arctic climates. We spent about two hours walking around it, seeing bison, caribou, tigers, lynxes, porcupines, wolverines, foxes, wolves, moose, raptors, and a farm area. The weather wasn't great, but we ate lunches of peanut butter sandwiches, carrot sticks and blueberries in the parking lot before we went on.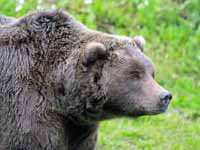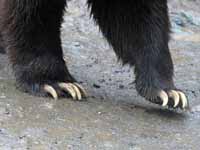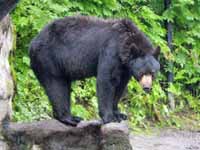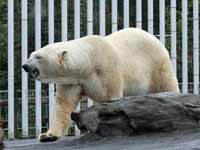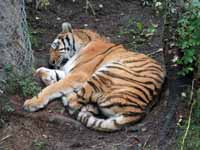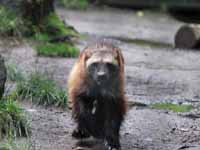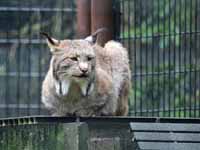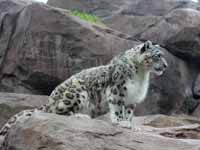 We stopped at Ship Creek in the middle of Anchorage and saw lots of salmon struggling upstream and a good few fishermen trying to stop them in their journey. From there we went to Earthquake Park and the boys climbed the monument there.

When we drove into the car rental lot, the shuttle was already there and we were at the airport quickly. With lots of time to kill, we found our gate, then Michelle and I went off to reconnoiter for food sources, finding a McDonalds and a Quiznos. I heard someone say "Sandy, Sandy," but figured they were calling someone else because I knew no one in Anchorage. But when we got back, a young woman walked up to me and it was Olivia, Heather's good friend who traveled with us in Schezuan Province on our China trip. She was just finished with a one month project studying the DNA of bears in northern Alaska using blood samples and scat. We talked about our trip in China, her time at Plymouth State, future educational plans, and Heather.

After a good long talk, we went to our gate and found our flight was delayed for an hour until about 9:30 PM. The flight itself was uneventful and we arrived in Chicago in varying states of sleeplessness. When we walked the length of the B Concourse, we found that somehow we weren't booked on the flight we registered for, but on another that went to DC then to Boston. The airline rep advised us to go back to the gates we had come in by, where we found that Continental had no flights to Boston and she was mistaken. Dick went to an information desk and eventually found that we could be booked on a direct flight to Boston about an hour later than the one we originally booked.

Wednesday, August 24, 2011- Home

We arrived in Boston around 1:30 and within an hour were on the bus to Dover. Because there were too many people, the driver requested that Randy sit on his mother's lap which didn't turn out well but resulted in our getting two one way tickets as a make-good. I had phoned Rob and he met us at the bus station just after 3PM. After good-byes, we were on our way, with a bank stop to try to get Heather's college finances taken care of, and a Subway sandwich to make life easier when we got home at 6. It was a great trip, but most of us need to rest up before beginning to digest all that we did.