Wednesday, August 17- Denali to Seward
We exceeded expectations, getting off by 7:30. Much of the early drive was overcast and rainy. We stopped at the South Mt. McKinley viewing area, but only for a rest stop. Again there were no amazing mountain vistas. We once again shopped at the Wasilla Walmart and ate lunch at the McDonald's inside the store.
As we drove south of Anchorage the scenery was beautiful when the rain and clouds didn't hide it. We arrived at the
Seward Salmon Bake Cabins
and were given cabins 3 & 4. The Dowling's cabin had neat bunk double beds with a slanting ladder to reach the top bunk. It was great to be able to go to a bathroom inside the cabin instead of walking outside- especially with all the rain we've been having. An added feature is the presence of many rabbits- domesticated-looking bunnies hopping all over, many of them a lovely light orange brown color.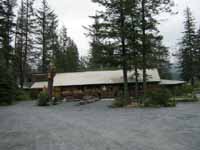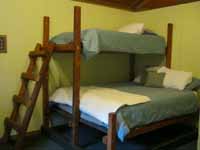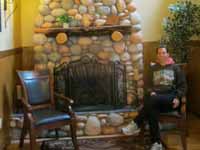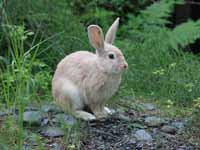 Rick went out for a run, then showered. Dick, Michelle, Sandy and Randy drove down to the harbor in Seward. We checked out nature cruises at the Kenai Park Information Center and found that the waves would be eight feet high tomorrow and 14 the next day-a bit daunting! The waterfront was busy with a
Silver Salmon Fishing Contest
going on and racks of fishes being hung for photographs by the harbor. Beyond that fish cleaning was being done by professionals, at least one a woman. Randy and Dick went down the docks to try and photograph birds and Michelle and I wandered through gift shops.
We headed back to our cabins and decided on dinner. Rick, Dick and Ricky had snacked a lot and decided not to go to dinner. So the other three of us headed to the Salmon Bake Restaurant- motto" Cheap Beer and Lousy Food." We didn't check out the beer but Randy had seafood chowder he loved, I had a very good Hawaiian Teriyaki burger and Michelle had a big plate of seafood nachos.
Choices for tomorrow include 3-4 hour nature cruises, a trip to the Exit Glacier, or the Alaska Sea Life Center if weather is awful. But we'll hope to see the sun again- Tomorrow, Tomorrow!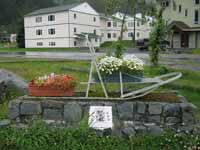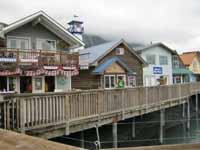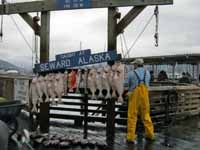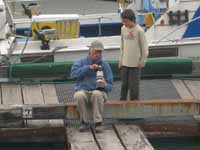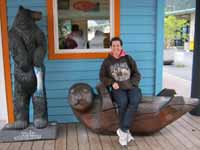 Thursday, August 18, 2011- Seward
Well the sun didn't come out "tomorrow," But it didn't hold us back any. In light rain we visited the
Exit Glacier
and did a fair amount of hiking there. While we waited for the ten o'clock ranger tour, we walked to a viewing site about a mile round trip. The volunteer ranger talked about change as he told about the evolution of plant life when the glacier receded as well as the change the glacier brought to the countryside. We walked with him for a half hour or so, then took off on our own to walk to the end of the trail. Then we went down along the river, crossing on stepping stones over smaller streams, until we reached the base of the glacier. At one wide point, Dick and Rick tossed stones into the river to try to extend the stepping stones all the way across, but had to give up the effort. We touched the glacier and Rick and Randy found small pieces of glacial ice and carried them with them all the way back to the car. At the glacier we tried to follow the other side of the river back to the trail, but found crossings too difficult, so went back the way we came. It was a unique experience being in front of such a mighty river of ice.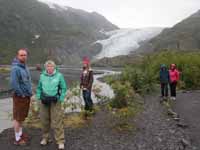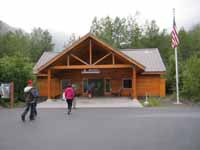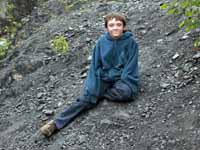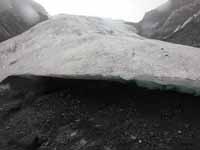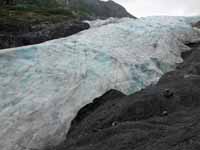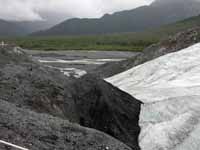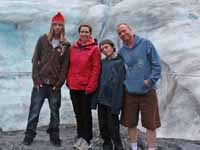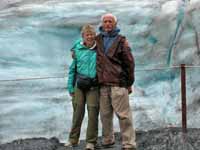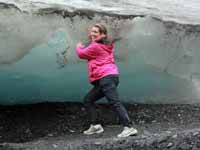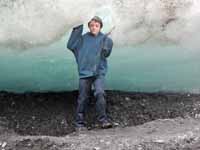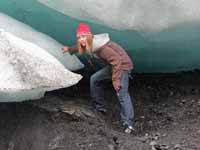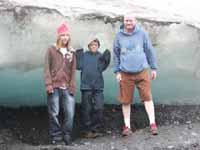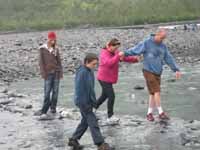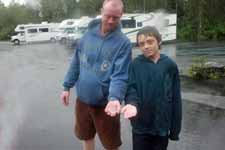 We went back to our cabins for lunch (PB&J sandwiches for most) then set out for the
Alaska SeaL ife Cente
r. They had many aquariums with fish from salmon to strange smaller fish plus octopi, sea lions, and a touch tank with hermit crabs, sea stars, barnacles, and anemone. Dick's favorite, of course, was the aviary with two kinds of puffins, ducks, and other sea birds. It was a great place to spend a rainy afternoon. Then it was back to real life as we went to the Sip and Suds Laundromat and spent a couple of hours washing and drying our accumulated dirty clothes.
After seeing that the local Chinese restaurant only had a lunch buffet, we opted to go back to the Salmon Bake Restaurant next to our cabins for more of their not-so-lousy food. Everyone was tired from a very busy day and we called it a night when we got back to our cabins around 9:30. The Kenai State Fair begins tomorrow, so that's a possible option for us.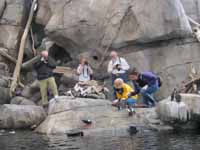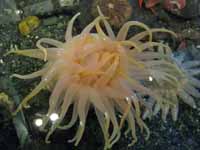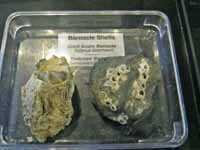 Friday, August 19, 2011- Seward
This was the rainiest day yet. Everyone but Dick went over to the main hotel and had waffles for breakfast, made by the hotel's owner. She was very sweet and filled us in on information about the building of the two establishments, the origin of the resident bunnies and her history. When we were done she even took us in to see three of the different rooms in the hotel part.
We walked back to our cabins and decided to go to the
Seward Museum
which was a quaint collection of artifacts about the area including a cow raincoat, a handmade 49 star flag when Alaska became a state, porcupine quill baskets, arctic clothing, vintage furniture and appliances and items from important people in Seward's history.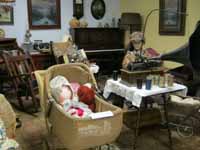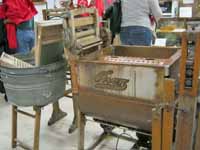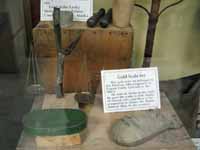 From there we went to a Chinese restaurant and had a buffet lunch. The grown-ups followed that with a movie in the basement of the town library about the 1964 earthquake- the second most powerful in history and the most powerful in the US. In fact about 2/3 of all US earthquakes have occurred in Alaska. We checked out the book sale and I found a French novel for Dick.
It was still raining quite a bit, so we walked down to the harbor determined to do something outdoors. Michelle, Ricky and I popped into some gift stores while the others strolled down to a covered picnic area. Dick saw a bird he hadn't photographed, walked back to the car to get his camera, drove back and the phalarope was till waiting for him.
We drove down and located the cabins we stayed in last time, then went back to the cabins. Rick and Michelle came over to our cabin and we watched "Fun with Dick and Jane" and finished off the bottle of wine we bought days earlier.
Saturday, August 21, 2011- Seward to Homer
We were up and off by about 8. The weather was pretty much what we had seen for the last week. Our first stop was in
Soldotna
where we went to the
visitor's center
which was very nice. We walked out on the pier below and watched men fishing for salmon, but didn't see any caught. A fisherman told Dick they had only hooked one that morning. We stopped across from The Hutch- a B & B we stayed at five years earlier and will stay at on the way back.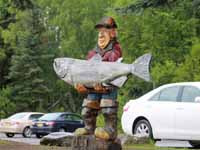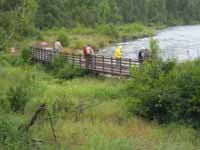 The
Kenai State Fair
was going on in Ninilchik, so we stopped there. First we saw Eskimo dancers putting on a show. Then it was time for the pig races to begin. I bet on Pig 4 in the second race on Randy's recommendation and won a green cowbell. We walked through the Rabbit and Chicken Building. Then it was time for food. The boys got fried bread and Rick, Michelle and I had cheesecake in a cone- very good actually. I ended up buying cinnamon coated almonds and we walked out munching.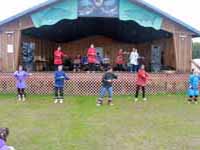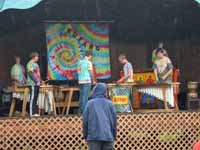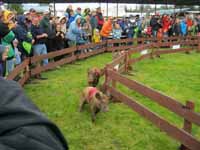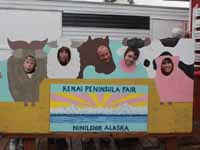 The following photos were taken on 3 different days at widely separated locations, Climbing rocks is just what Ricky and Randy like to do!