Saturday, August 13, 2011- Palmer to Denali
We were all up by 7 and packed, washed dishes and were ready to leave by 10:15. The day was cloudy and after a stop at the Wasilla Walmart, we really got underway. We stopped to put together sandwiches for lunch around 1 and drove until we got to the south viewing area for the Mount McKinley (Denali) Range. With little rain there, we took a short trail up to a second viewing area. Needless to say, there were no mountain views, but lots of clouds. From there it was pretty much non-stop to the
Carlo Creek Cabins
where Dick and I were booked in Cabin T (For tree, we assume, because the roof was mossy and covered with small trees- very charming really.) Moose antlers served as door knobs both inside and out, and décor was rustic but we did have a small microwave and refrigerator as well as modern heating. The bathhouse wasn't very far away but the prospect of late night rainy trips there wasn't altogether pleasant.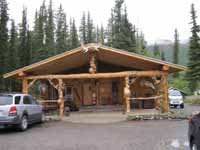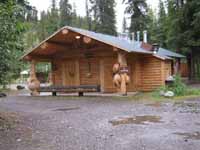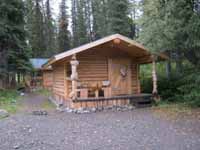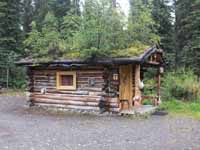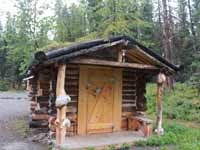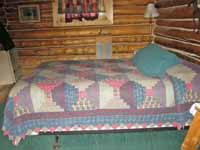 We put our suitcases in the cabin, then continued on to the Denali Salmon Bake Cabins, associated with the restaurant, where Rick and family were staying that night and we would join them Sunday. When we originally booked accommodations, they didn't have room for us this night, but they are very conveniently located for Denali. The cabins are more like tents from the outside but cozy and comfortable inside with two queen beds. We helped the Dowlings unload and made sure they had their portion of the breakfast supplies for tomorrow morning, then we all drove to the Visitor's Center in Denali. We watched the introductory movie, then toured the exhibits, seeing information on the lives of animals there as well as geology of the area, life of native peoples, and gold mining.

We ate at the Salmon Bake Restaurant, having everything from king crab sliders, to cheeseburgers, to fish chowder and halibut and chips. After dinner Dick and I drove to our cabin, while Michelle and family went to the gift shop next to the restaurant in search of bear bells, to avoid startling grizzlies if we hiked tomorrow. It was a good day even if the weather didn't fully cooperate!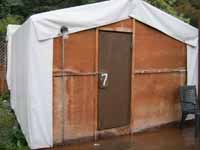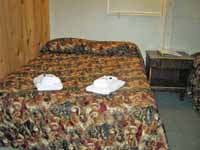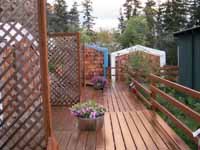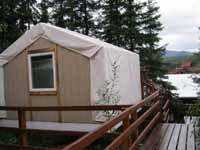 Sunday, August 14, 2011- Denali

Got up, showered and met Rick and family at the Denali Transportation Center at 10. We made a few sandwiches, then decided to just take supplies along and fix food as appetites emerged. Our bus to the Eielson Visitor Center left at 11 and was scheduled as an eight hour round trip. A wolf crossed the road soon after the bus started, but disappeared quickly and I saw nothing but the photo Dick managed to get. We saw a grizzly, several caribou, and a trio of Dall sheep looking down at us as well as many, many in the distance. The most exciting spotting was of a grizzly eating berries right next to the road. We had a long look at it, and finally the driver moved the bus in case we were blocking the grizzly's way across the road. The rule in Denali is to do nothing that will alter the behavior of the animals there.

We had several comfort stops and ate lunch along the way, along with lots of other road trip treats. At Eielson Visitor Center we saw the animal and geological exhibits plus artwork by people who had spent time at Denali as artists-in-residence. It had been cold and rainy all day, so we decided to catch a slightly earlier bus departure from there and were back at the Transportation Center by 6:30. Not much was spotted on the way back and the most exciting happening was Dick, Rick, and Michelle getting their photos taken with large racks of antlers on their heads.

The consensus was that pizza would be a good choice for dinner so we went to Prospector's Pizza, a cute place with antler chandeliers. Everyone enjoyed the warmth and good food. Dick got our key for Cabin 7 at the Salmon Bake Cabins and we joined the Dowlings who had spent last night in Cabin 12. We were glad to see that tomorrow's forecast even holds the possibility of some sunshine to break up the rainy spells- an improvement over today. We all retreated to our cozy, tent-appearing cabins for a good night's rest.

Monday, August 15, 2011- Denali

We got up at 5:45 this morning to make a 6:45 bus for the 11 hour journey to Wonder Lake and back. Our driver was Frank, who had a sarcastic sense of humor which kept everyone entertained as we waited to go. Very soon after we left we saw a large bull moose with a massive rack. Next we saw a group of caribou grazing on a hillside. The driver told us that they keep their heads down even when not eating because flies zoom by, spraying eggs into their nostrils which hatch inside and are coughed out by the caribou. They have a similar problem at the other end where eggs are laid inside their back legs and develop into larva which fall out when they continue their life cycle, Not a very pleasant life for the caribou. Quite a few grizzlies were out and about and neat to see.

Even though the day was overcast, the Polychrome Mountains were beautiful with their differently colored patterns. When we reached our 40 minute stopover at Eielson Visitor Center we asked the dispatcher if we could change to a bus that was leaving sooner. He put us on a bus with Tim, who spouted a font of knowledge and interesting history as he drove. At Wonder Lake we caught Frank's bus again which gave us an extra half hour there. Dick had been told that the Wonder Lake area would be his best bet for finding birds, but all we saw were the Gray Jays who swooped down on unsuspecting people's lunches and carried food away. But he did get some good photos of those.

Back at Eielson Visitor Center we found there would be another 40 minute stopover, so we went back to the dispatcher and hopped onto Tim's bus again for an entertaining and informative ride back to the Wilderness Access Transportation Center. He stopped for more grizzlies and a group of Willow Ptarmigans- the Alaskan State Bird. We saw more caribou as well. All of us snoozed a bit, but woke up for sightings. As a bonus, we saw a rainbow on the way back. We arrived back at the transportation center around 5:30 and drove to our cabins. Then we walked to Subway where we managed to devour a dozen cookies as well as our sandwiches. Dick and I went off in search of the building where the Cabin Nite Dinner Theater is held, so that we could find it easily tomorrow night. We walked through a bit of windy rainy weather but found the hotel associated with the theater and got our tickets.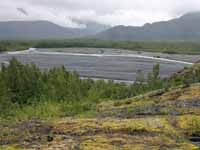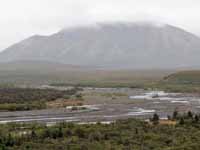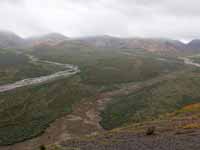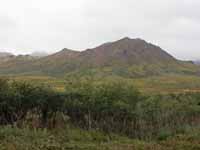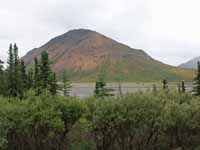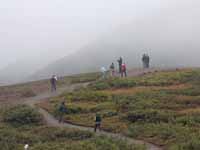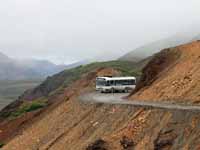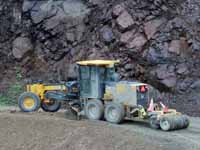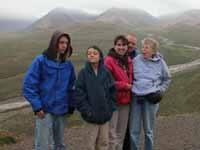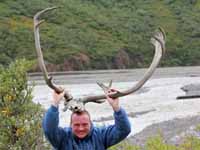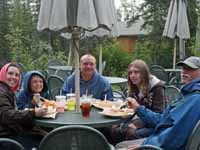 Wolf, Dahl Sheep, Moose, Grizzilies, Caribou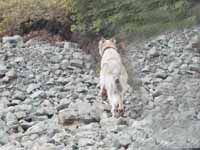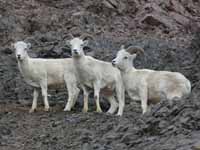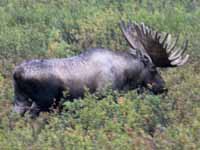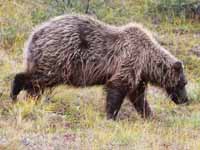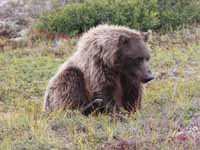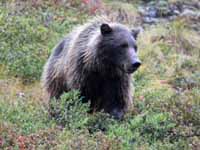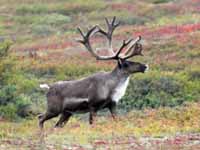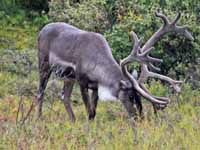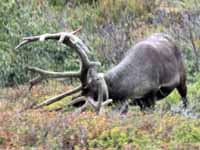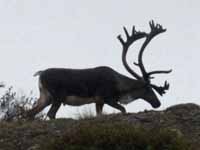 Back at the cabin, we both showered and felt better for it. Dick worked on the day's photos and we relaxed before bed. It was nice to be back in a cozy place for the night!

Tuesday, August 16, 2011- Denali

We got up in time to be at the Visitor's Center by 9:20 to follow the dog footprints on the sidewalk down to the buses for ride to the sled dog kennels. We all enjoyed seeing the sled dogs on their houses, eager to be petted by visitors. The new puppies were too young to be brought out for people to hold, but we could see them in the kennel with their mother. A dog handler talked about the wintertime expeditions they did by sled to check out the park, then they hitched up five dogs to the sled and ran it around the track. We went back to look at the dogs again and were there when they unhitched the dogs and sent them back to their kennels. Then Rick and family stood on the dog sled while I took photos.

Dick in the meantime had taken a hike on Horseshoe Lake Trail in a continuation of his frustrating trials at finding birds to photograph.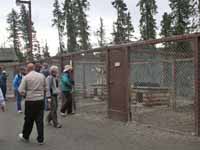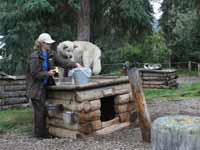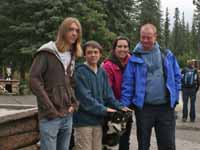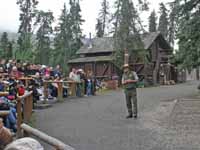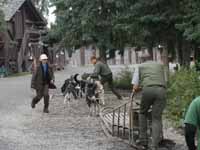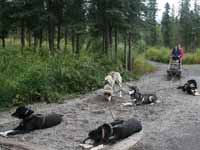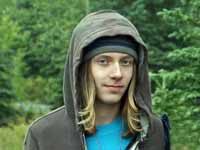 We had decided to walk the Roadside Trail back to the Visitors' Center, so set off, eating pumpkin berries (that taste like green beans) and blueberries along the way. The boys climbed up on a large erratic near the end of the trail. Dick had started along the trail to meet us and together we went to the Wilderness Café for lunch. The weather was nice enough to eat outside and we had bread bowls of chowder and reindeer stew.

After lunch we drove up the park road and stopped at a stony river where Dick and I had hiked five years before. I looked for interesting rocks and Randy, Michelle and Dick walked along the river for a while. There were lots of places where you could cross the river on little islands of rocks and the weather was very decent. Rick and Ricky took off on a longer hike and weren't back for 3 ½ hours, causing some worries. But they were back just after four and we had plenty of time to get ready for the Cabin Nite Dinner Theater Show at 5:30.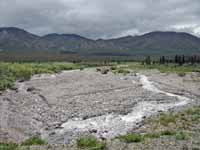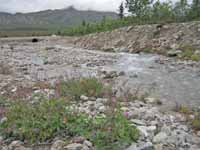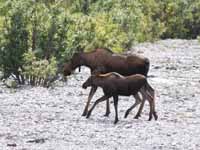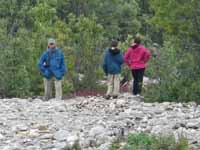 We parked at the McKinley Chalet Resort and walked down the hill to the Cabin Theater which had a replica of a small gold mine outside. The cast met you outside, sang a welcome and escorted you to your table where rolls and salad were already waiting as well as pitchers of iced tea and water and a carafe of coffee. Eating was family style with a cute young woman midway down our table designated as the one who served what was near her and called our waiter, Charlie, whenever we wanted more of something. We had salmon, ribs, potatoes, beans, and corn on the cob for dinner. We were instructed to whirl our napkins around our heads and yell, "Charlie" if we ran out of something, but that never happened and food was provided very efficiently when extra was requested. Dessert was mixed berry cobbler.

Several of the performers sang solos between their table waiting duties and had very good voices. We had small trashcans on the table to make clean-up easier and tossed our cloth napkins into the waiters' aprons as we got ready for the show. Topics such as gold mining, the establishment of Denali National Park and the first climbers of the two peaks were acted out, interspersed with songs including sing alongs and audience participation numbers. Several diners were chosen to act out Alaskan poems (Dangerous Dan McGraw) and the singers often flirted with audience members. Dick got his share of attention, sitting right up front. Everyone agreed that it was a fun night with very good food.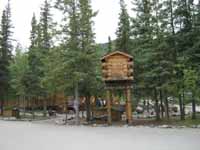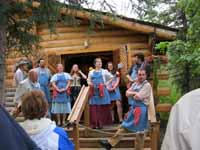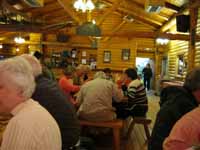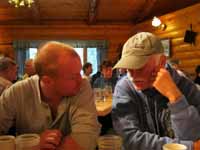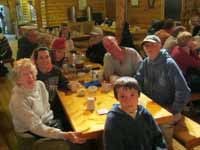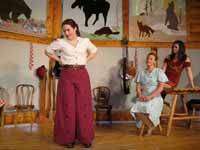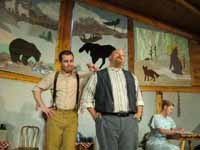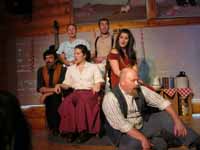 We were back at our cabins by eight PM and agreed to try to leave by eight AM the next morning for the long (8 Hour) drive down to Seward.