QUEBEC
July 25-29, 2005
Le P'tit Train du Nord (Linear Park)
For this bike trip, TOHG members provided their own transportation to St. Jerome, which is less than 50 km north of Montreal. There our bikes were packed onto a trailer and hauled by our small bus to Mont Laurier, the northern-most point of "Le P'tit Train du Nord". We spent the next 4 days biking 200 km (120 miles) from Mont Laurier to St. Jerome over what used to be a railroad. The tracks have been removed and the route transformed into a biking trail, which is referred to as a Linear Park.
Back: Bob Rhines, Rod Dyer, Dick Daniels, Norm Hall, Elsie Laverty

Middle: Gerald Cohen, Jerry Eidelman, Chuck & Susan Hyson, Sandy Cole, E. J. Fields, Cyndy Dyer

Front: Carol Cole, Joan Hartnett-Barry, Linda Eidelman, Toby Bernstein. (Taking picture - Joe Messina)
| | | | |
| --- | --- | --- | --- |
| | | | |
| Map of the Route | 1/2 of the trip was on asphalt | 1/2 was on gravel | We met at St. Jerome, then went by bus to Mont Laurier. |
Tueday we biked from Mont-Laurier (marker 200 km) to Nominingue (marker 142 km).
Most stayed at
Auberge Villa Bellerive

Some stayed at Chez Ignace

Breakfast at Nominingue
Wednesday we biked from Nominingue (marker 142 km) to Mont Tremblant (marker 91 km).
Wednesday afternoon/evening we toured the Mont Tremblant ski village.
Leaving Mont Tremblant Hotel, where we all stayed.

Thursday: biking to Val-David
(marker 42 km)
We stayed at 3 different places in Val-David (none shown here). Above left is the train station, above right is a reminder that Val-David is an artsy town.
Friday we biked from Val-David to St-Jerome. Photo on the right shows kilometer 0!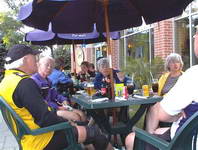 Passing the time until the baggage arrived.