Monday, September 27, 2010- Cape Town to Victoria Bay
After the Gate1 tour ended, we rented a car and traveled east of Cape Town.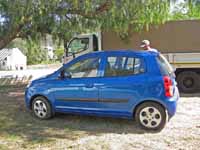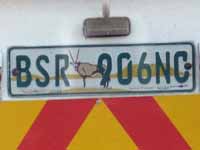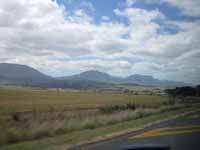 Monday night we stayed in Victoria Bay. Our B&B room was 10 metres from the ocean and provided a great view of surfers.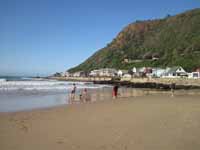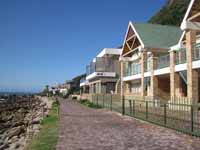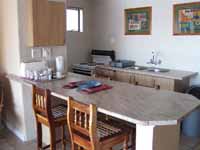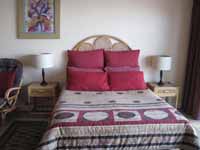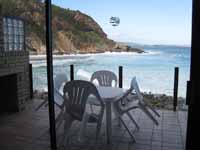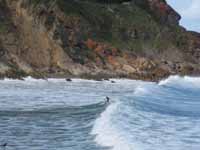 Tuesday, September 28
We headed inland, through a mountain pass, to the Cango Ostrich Farm in Oudtshoorn.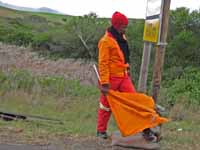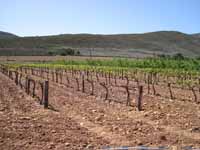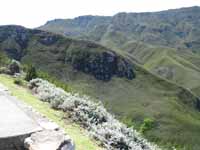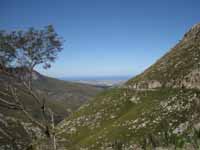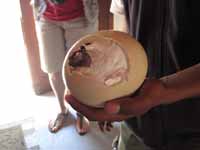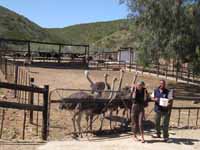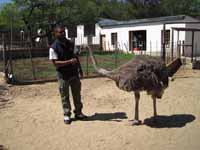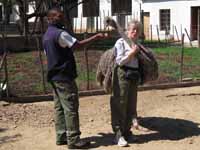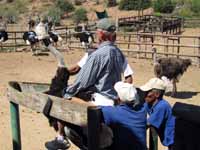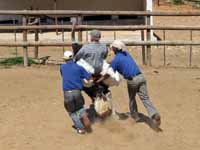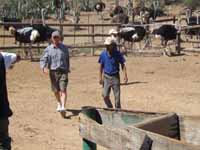 We then continued to our destination for the day - Plettenberg Bay. We liked it so much that we spent 2 nights there. Our B&B was withing walking distance of a lagoon (3, 4).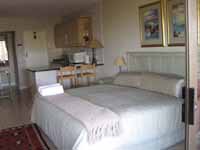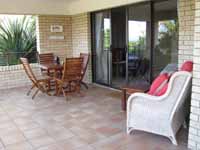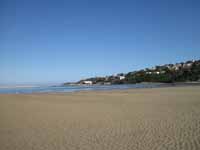 1, 2) Dick and others waded in the Indian Ocean which was about 60.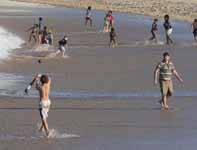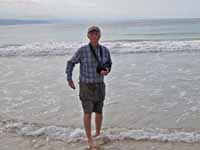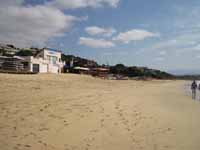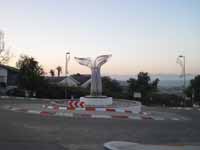 3) We had a pizza here on Wednesday night.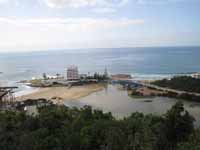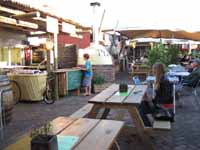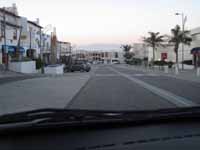 Plenntenberg Bay has many tourist attactions near by. Dick's favorite was Birds of Eden - a high net enclosed 5 acres of natural habitat in which the birds were free to fly as if in the wild. Some of these birds were very friendly!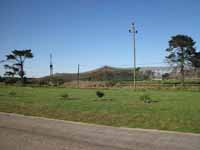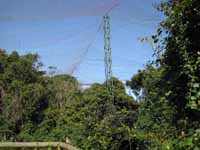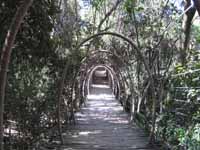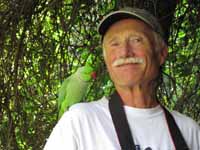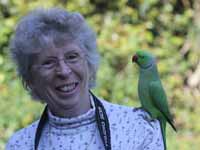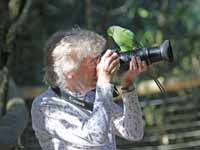 Sandy saw various cats in Teniikwa
7) Tortise also at Tenikwa 8) White Stork close by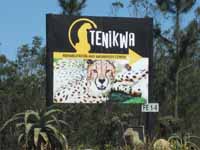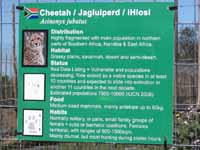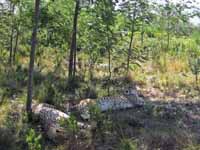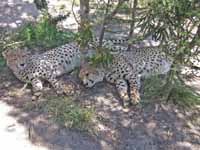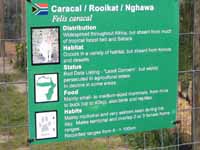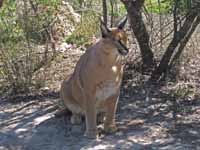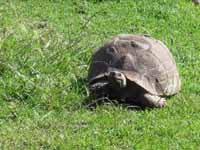 Dick saw birds of prey at Eagle Encounters. Many of the birds were allowed to fly with no restraints.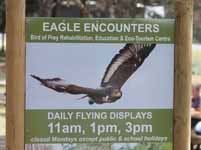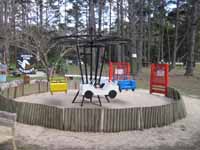 Thursday, Sept. 30- Pletterberg Bay to Swellendam

Our B&B in Swellendam was run by a lovely couple of Dutch descent. Like all of our hosts, they were very friendly, He being a retired doctor, we are sure they did not need the money but instead liked the encounters with travelers.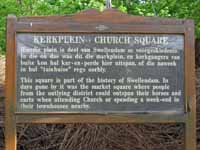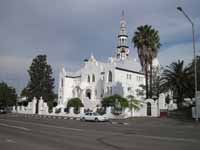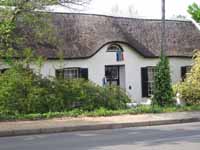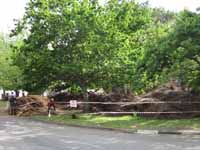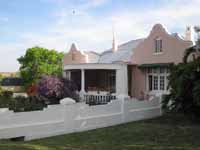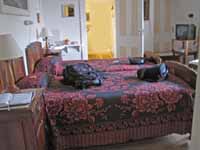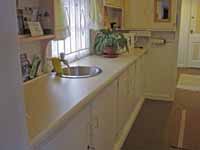 Friday, Oct. 1- Swellendam to Hermanus

We traveled from Swellendam to De Hoop via a gravel road that, for the most part was in good condition. We thought the reason for taking this gravel road was because it was the most direct route to the nature reserve at De Hoop, but discovered that it was scenic and had lots an lots of birds!
2) Sheep in a row 3) Blue Crane - national bird of South Africa
4 - 8) The turkeys were domesticated as were the ostriches who were peekers at a pit stop!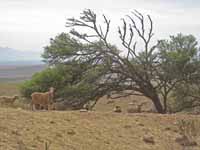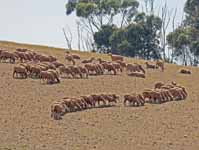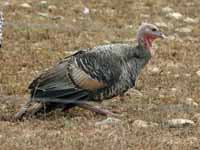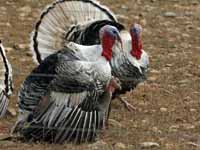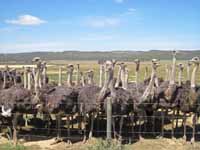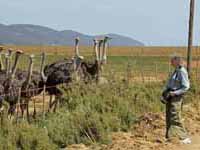 De Hoop Nature Reserve is isolated and mainly unchanged by mankind. It is known for its wildlife, especially whales. We saw 6 whales at one time!
10) A very poisonous Puff Adder.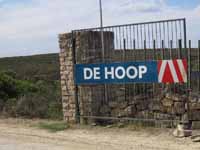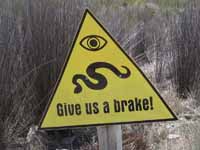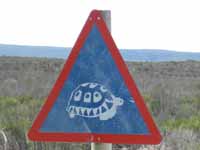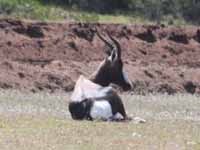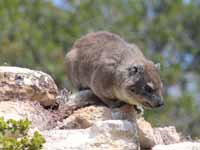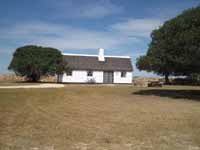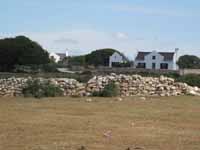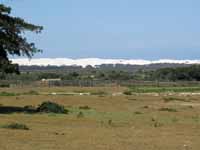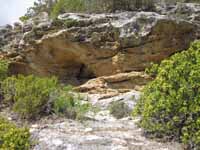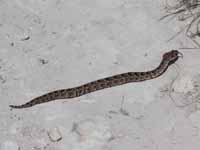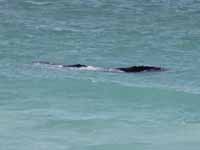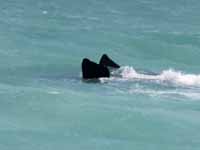 We spent our last night of our vacaton in Hermanus. This has perhaps the best whale viewing in the world. The Right Whales often pass the rocky coast within 100 feet of viewers.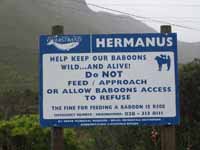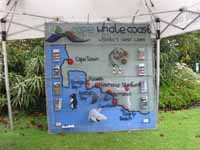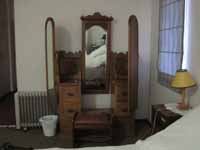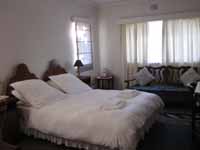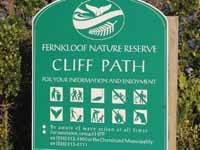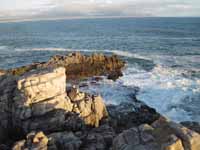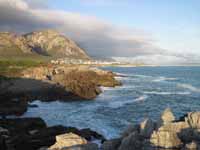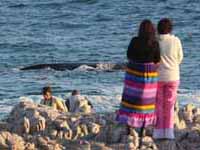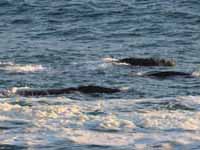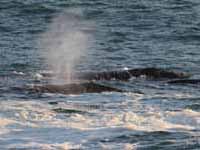 We lucked out, not only were the whales visiting Hermanus, the spring flowers were at their peak in a town park and there was an indoor flower display.Most of these flowers are different species of proteas.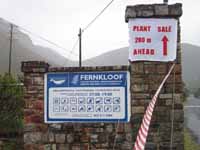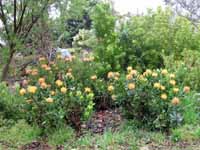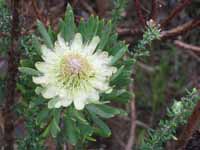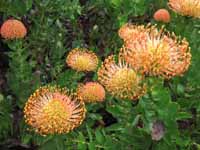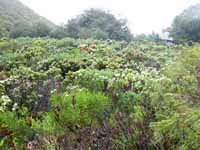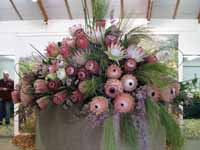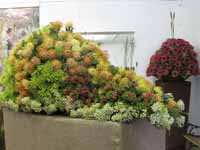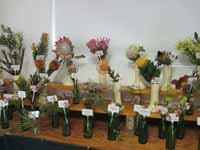 Having a little extra time on our way to the airport, we made one last detour to a beach. First we had to drive through one of Cape Town's shanty towns.