Hawaii - The BIG ISLAND
We spent the first two days on the Big Island at
Volacano National Park
. We stayed in a rustic cabin, walked through a lava tube, saw lots of craters, and came to appreciate lava for its beauty.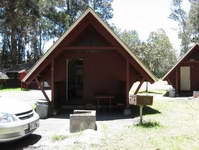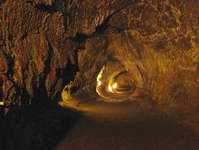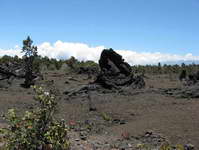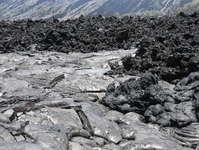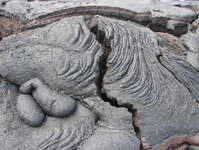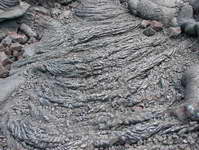 We also saw petroglyphs, steam vents, and sulphur deposits.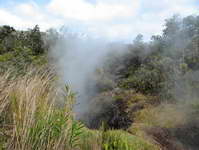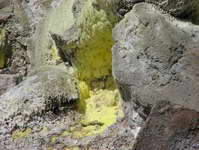 More Volcano National Park Pictures
Driving from the volacones to our B&B, we stopped at
Punaluu Beach
where we saw not only black sand but also turtles.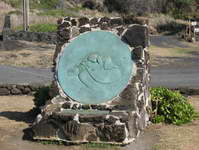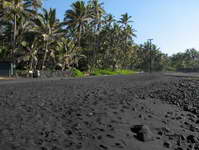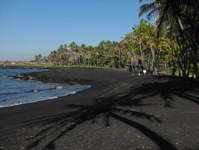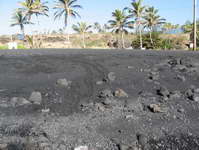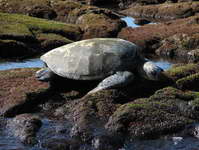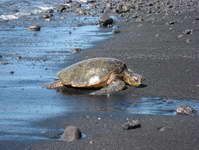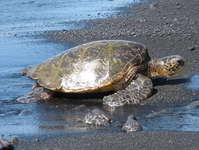 Hookena Beach
was good for snorkling and had a nice camping area.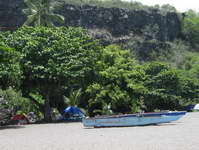 In
Kona
, Sandy had fun at a farmer's market.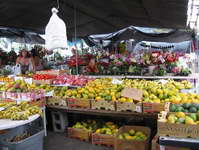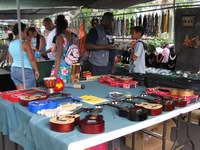 The last 4 nights of our stay on the Big Island were spent at the
Mango Sunset B&B
. It is high on a hillside, 2000 ft above the ocean. In addition to lots of tropical fruit that has been recently planted, the owners Hans and Marsha have a coffee plantation. Hans gave us a demonstration how coffee is prepared. Emily a "Woofer" helped out.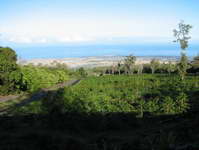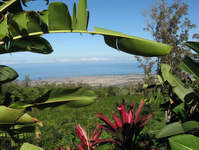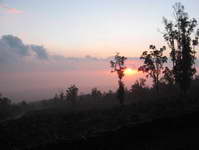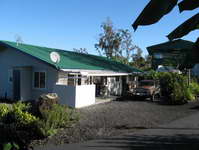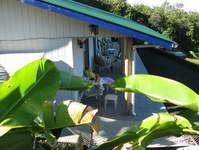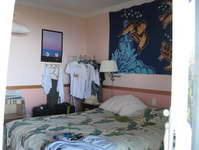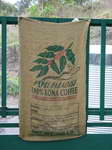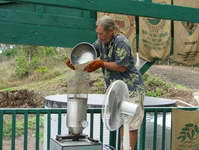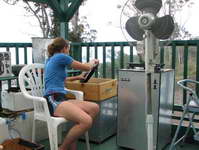 The best place we have ever snorkeled was 10 miles south from the B&B, in
Kahaluu
. Close to the snorkel site there was a fancy gate and a cute church, At the church there was a view of the snorkel site.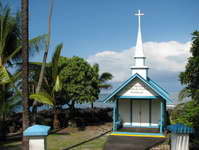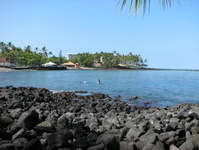 Snorkeling was at the left side of the bay, and surfing at the right side. We brought "Woofers" Emily and Joseph to the site - here they are watching a green sea turtle.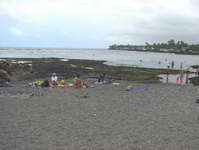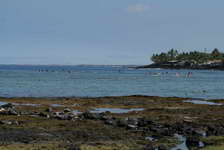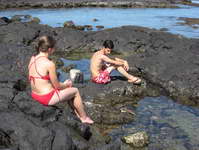 Sandy had a plastic bag for her camera which allowed us to get many
great underwater photos
. The water was shallow and clear. In fact, the second photo shows 7 different species of fish. We both swam with turtles. The last photo shows a boy's surprised reaction when he unexpectedly encountered a turtle.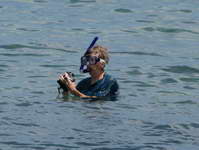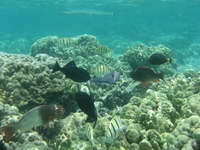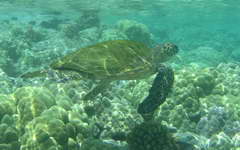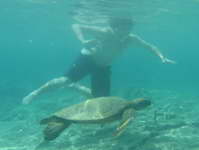 Using Mango Sunset as our home base, we took day trips up the coast. We were surprised to see much relatively fresh lava on these rides. Many people have used white coral to leave messages on the black lava. Here is one that Dick wrote. The second photo shows Hapuna Beach, our favorite swimming beach. It was very pretty plus the sand's texture was perfect.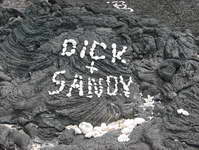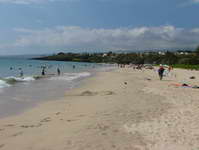 The last day on the Big Island we continued clockwise around the island towards Hilo. One of our stops was at a 600 year old historic site where Hawaiians once lived.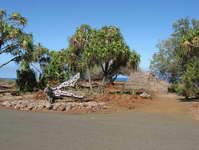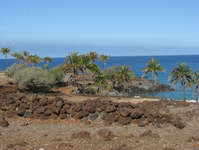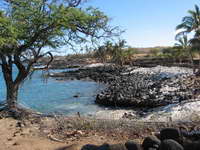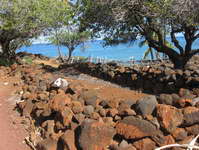 We stopped to see a statue erected in honor of
King Kamaehamaea
who united the Hawaiian Island people. We continued to a point that offered a good view of the coast. Along our ride we had beautiful views of grassy fields with ancient volcanoes in the background.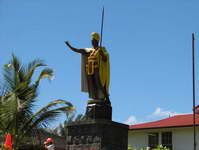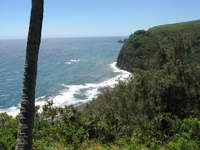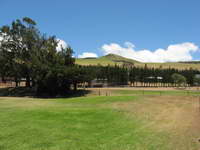 We were surprised that the windward coast had relatively few accessible beaches - steep cliffs kept the road away from the shore. The only "beach" we stopped at had swimming in the river close to where it entered the ocean.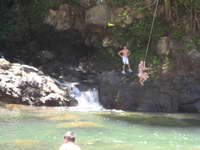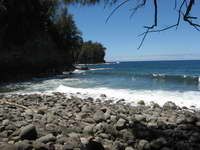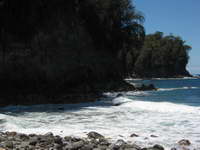 On our flight back to New Hampshire, we had a layover in San Francisco. This allowed us to visit with Cindy and Chris. Their new house in Half Moon Bay is high on a hill with great views. Also, close by there are nice walks along the shore. During the walk we saw lots of seals and birds.