INTRODUCTION

Air New Zealand offered a choice of islands as a four day sojourn on our way to New Zealand. With a name that has become synonymous with tropical paradise, how could we help but choose Tahiti to be our 4 day stop over?
We knew ahead of time that Tahiti does not have great beaches, so that did not disappoint us; especially since New Zealand was going to have miles and miles of beaches. And Tahiti did live up to its reputation of having lovely coral coasts that are perfect for snorkeling.
Tahitian geography reminded us a lot of Kauai: a volcanic island with the interior mostly inaccessible dueo to steep hills. Actually, Tahiti is comprised of two islands, the northern and bigger Tahiti Nui and the smaller and southern Tahiti Iti. Because the two islands are connected by a very short causeway, it's easy to think of Tahiti as just one island.
Tahiti is part of French Polynesia, and it is still very much French. The common language is French, and Tahitian a close second. Most people also speak some English, so conversations were not a problem. Even though we visited when there is some animosity between the US and France, that was not evident at all in Tahiti. In fact, the Tahitians were very friendly. Unlike the native Hawaiians, they have not in general lost their lands to the rich foreigners. Tahiti is isolated and small, not characteristics that generally attract permanent residents. Plus Tahiti can be hot, as it was most of the time we were there - 90 or above during the day, and low 70's at night.
Tahiti is a very expensive place to visit or live. For example, a load of wash would cost $8, plus another $8 for the dryer. We took our dirty clothes to New Zealand. But Tahiti, thanks to the French, has lots of good French bread, that is also very reasonable. A good way to get an inexpensive and good meal is to take advantage of one of the cooking vans that park by the side of the road and serve tasties such as roasted chicken.
So believe it or not, Tahiti was a lot like Iceland! A great place to visit and spend a few days, but not a place we have put on our lists of places to visit again. If there is a next time, we would try another island such as Fiji or Bora Bora
TAHATI MOANA VILLA
We stayed at the Tahiti Moana Villa in the outskirts of Paea, about 30 minutes from the airport in Papeete, the capital of French Polynesia. Staying in the countryside was much nicer and more affordable than back with most of the other tourists. Our 'villa' was great. It was all flower prints and rattan. The ceiling was high and a fan stirred the air. We had electric hot water that came on quickly. The villa had a central walkway with a drainage ditch between two sidewalks and flowers lining the walk, between the individual villas, etc. We could see a lot of fish from the dock including some with very long noses.
Breakfast was served in an open air roofed building with a kitchenette at one end and picnic table like seating. A fan spun above and there was a decorated area beyond the tables that even had a few Christmas decorations still up. Above each 'window-like' opening was a valence that seemed to be hand painted and each section had a different design. Our breakfast that first day was pineapple and papaya with French bread. French toast was added some mornings, and bananas, but breakfasts were very much the same on the whole.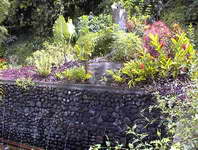 Within walking distance of our villa, there was a "watering hole", a wall with six or so pipes gushing water. There were lots of Tahitians filling their bottles and jugs. Even the top of the wall was planted with beautiful flowers.
Fifteen minutes north of our villa was the Maraa Grotto, with lots of beautiful flowers growing in the area.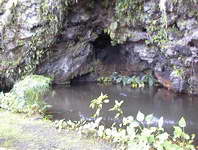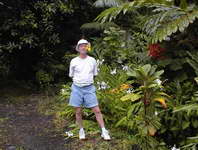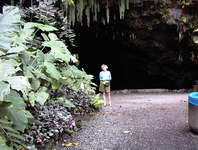 Further north there was a good beach for snorkeling. This beach was not visible from the street, but its existence was noted by a street sign perhaps 5 miles from the airport. From the beach you can see the relatively close island of Moorea.
Via our rented car, Papara was 10 minutes south of us. But by the bus it could be a couple hour project!
The Gauguin Museum and Botanical Garden is at the southwestern end of Tahiti Nui. There we saw some works by other artists, nothing too important by him, but there were artifacts from his life there. The gardens were beautiful and reproductions of paintings were in one hall. There were also three tiki (see photos 1 and 2) in the gardens.
The following pictures were taken along the east coast of Tahiti Nui. We would not have seen any of this if we hadn't rented a car, since the local transportation was so haphazard. The car was relatively expensive, as were most of the things on this island that suffers from French bureauacry.
EAST COAST
We went to the east coast of Tahiti by driving through Papeete. It had an interesting church, but an even more interesting market.
The roads on the east coast side of Tahiti were twisty with rocky cliffs, actually a predictor of what was to come in New Zealand but we didn't know that then. There was lots of surf and surfers taking advantage of it along the way. At one area a small market was set up with lots of local fruits. We stopped and walked along the stalls, first buying two kinds of cut up melons and eating them as we went. We got to the end, then chose a couple of bananas from one stall which the woman insisted on giving us for free. They were red and yellow and small and tasted better than the average American bought bananas.
The Blow Hole is located on the northeast coast. It wasn't active while we were there, but the beach was very pretty. As shown in the third photo, some of the beach was covered with ground up coral. The last photo shows that other parts of the beach were of black sand. Unlike some black sand beaches, this sand was soft and fine. While we were on the black sand beach, Sandy struck up a conversation with some cute kids. However, they spoke only French and it was not compatible with Dick's limited French. Sandy tried to draw USA on the sand so the kids could know where we were from.
Faarumai Falls were near the Blow Hole. It was a short hike in and the falls were impressive. On the way back, Dick bought some more bananas and a Tahitian woman gave him two large grapefruit-like fruit since it was the end of the business day.
Near the southeast end of Tahiti Nui, we saw a beautiful stream with kids swimming in it. This was a close as we got to the Tahiti of old. But of course the missionaries arrived long ago, so the natives were wearing bathing suits.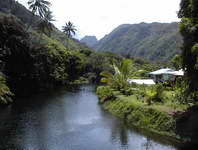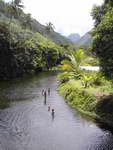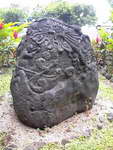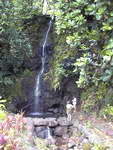 Close to the river, we saw a old church with vegetation on it. And near there was a more modern church which had a service in progress - the singing was intriguing.
SNORKELING
The pictures on this page were taken in the lagoon near the Tahiti Moana Villa. We each used one of the villa's kayaks and paddled out to a buoy where we tied up. The water was quite clear, especially considering that it was windy. There were lots of small fish, but finding a foot long fish was a challenge. We also snorkeled at a beach much closer to the airport, perhaps 10 minutes from the airport. We snorkeled near dusk and thus took no pictures, but the fish were more plentiful.
TREES
Palm trees were the most common trees.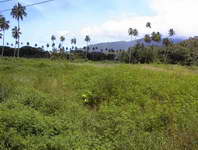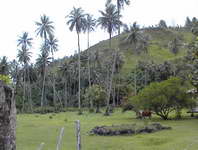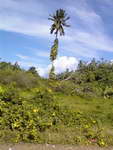 Photo 2 shows bananas growing. Notice that the bananas are upside down and also that they are accompanied by a flower; no flower, no fruit.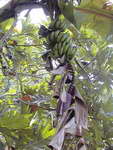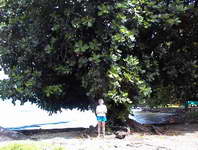 FLOWERS