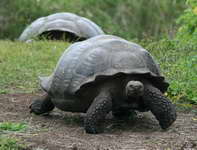 This was a Gate 1 Travel tour. We have taken a number of tours with this company and we continue to be impressed. Even though the tours are reasonably priced, we have always been impressed with accomodations, food, and the efficiency of the Gate 1 personnel. The Galapagos vacation was as good as anticipated.
We flew from Wilmington, NC to Charlotte, NC, to Miami. From Miami we then flew to Guayaquil, Ecuador where we spent the night. Bright and early the next morning we flew to the Galapagos Islands.
One of the reasons the Galapagos Islands are famous is because Charles Darwin observed various finch species there and concluded they had evolved to have different characteristics, especially beaks, as influenced by their different environments and foods. Voila, his theory about the Origin of the Species. Another reason these islands are famous is that they have been protected not only by geographical isolation, but also by the government of Ecuador which has enlightened environmental policies.
We went to the Galapagos to view the wildlife and experience a location that is important to the scientific community and to contemplative people in general. We came, we saw, and we were impressed.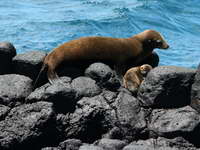 We stayed at the Finch Bay Eco Hotel. They really did seem to care about the environment, while still providing quality accomodations. The hotel was aptly named - there were many variety of finches in the vicinity. In addition to finches, there were shore birds at the adjacent beach and more by various small shallow ponds.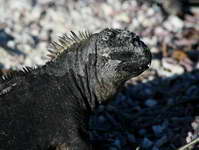 We stayed on the Galapagos Island for 3 nights. We went on tours that are documented by the couple of hundred photos in this web report, and had a vacation that met our expectations. As an added bonus, when we flew back to Guayaquil we had half a day for sightseeing.