2001 TRIP
On this trip to Dave's boat in northern New York, in the 1000 Islands area, Dave, Sandy and Dick were the participants. We slept on the boat and used it as our base of travels. Our sleeping quarters are shown below.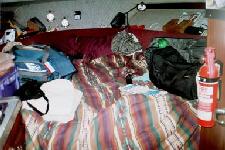 Below are some locks as we progressed to the Saint Lawrence River.
Photos 1 & 2 were taken as we entered the Saint Lawrence. Photo 3 was one of the multitude of islands there.
These photos were taken in Kingston Ontario.
This is an island where we overnighted on the boat.
In Gananoque we saw a play and stayed near by.
Boldt Castle was amazing.
Photo 1 shows where we docked. Photos 2 and 3 show the exterior of the castle. Photo 4 shows an interior domed ceiling. Photo 5 shows the boat house.
2004 TRIP
Before going to the 1000 Isands, we went to a Power Squadron cookout. There we met Ann, Paul, Ashley, Jackie.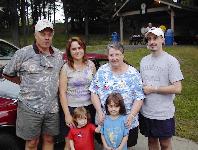 This is Dave and Linda's Trailer. We did lots of weeding of the flower gardens.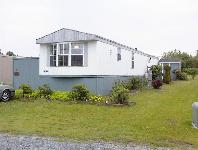 We took a day auto trip to Canada. First we went to a Hershey factory and watched candy being made (no pictures were allowed). Then we stopped at Merrickville which is a very nice town. Photo 1 is a plaque that describes the Merick House that is in Photo 2. The other 2 photos show some more stone houses.
One of Merrickville's claim to fame is its hand operated locks.
Brookville had a quaint sculpture of "The Ambassador of Smiles".
After passing back into the US, we had a nice dinner at a restaurant on the river. The gulls were friendly.
Photo 1 shows rocks we gathered near Dave and Linda's trailer for incorporating into our patio. Photo 2 shows the Ausable Chasms that we past on the way home.
2006 TRIP

400 ft Sky Tower and views




Linda & Dave
On the new deck

Boat Trip