The Gang members for this trip were: Mary Ann Skahan, Joe Messina & Dawn Metcalf, Dick Daniels & Sandy Cole, Joan Hartnett-Barry and Mark Barry, Art Wessel & Joan Sweeney, Pat & Rocco Pennachio, and Don & Linda Nelson. Dick and Sandy live half the year in this area so they provided lots of suggestions for activities and sightseeing. The menu at left lists the major places/events of this trip. This was a loosely structured vacation so none of us participated in all the activities.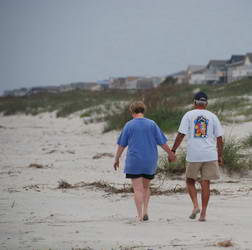 We stayed in two beach houses: Turtle Watch and Sunset Go Braugh. They were next to each other and the beach was just a short walk from there. Except at high tide, Sunset Beach has a wide flat area of hard-packed sand which is perfect for biking. Many of us rented beach bikes and used them to explore the island and cruise the beach. The water was in the mid seventies, the air temperature was like a New England summer, so we swam, body surfed and boogie boarded.
There was an Oyster/Jazz festival in Little River, South Caroliana on Sunday. The members of the Gang that had brought their bikes with them biked the 8 miles to the festival; the rest of us drove there. The crowd was large, friendly, and happy - plus the bands were great.
Monday we went to Ash, NC where Dick and Sandy live. Dick led a bike trip through the farming country while Sandy entertained the nonbikers. In the afternoon we drove to Holden Beach to explore a different island. The following day some people golfed, others went shopping at thrift stores for possible treasures, a small adventuresome contingent biked over the 60 foot high bridge to Ocean Isle, and still others went birding with their cameras. In the evening they found a special spot where 500 egrets nest each night.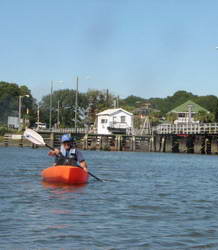 Wednesday was a full day. Except for a few avid golfers, we went to sightsee/shop in Southport which is a smaller version of Rockport. After the shoppers were satiated we took a ferry to a peninsular on the other side of the Cape Fear River. There we saw interesting fish and reptiles at the NC Aquarium at Fort Fisher. Later we continued up the peninsula to the historic small city of WIlmington. Upon arriving at our beach houses, we rested briefly and concluded our busy day by dining out at Captain Nance's located in Calabash - the self proclaimed "Seafood Capital of the World," made famous by Jimmy Durante's "Goodnight Mrs Calabash, wherever you are".
Thursday we rented two double-kayaks and time-shared them throughout the day. We paddled along the Intra Coastal Waterway and explored the natural canals that laced the marsh. The number of small bait-fish was amazing. Since the larger fish had an all-you-can-eat buffet, they could not be tempted by our fishermen, Mark and Joe. Dinner that night was subs, not the anticipated fish feast. In addition to bait fish, the marsh was a very active place for birds. Dick reported that it was his best birding day ever.
On Friday, our last full day, most of us were winding down and filled the day with relaxing activies: by beach biking, beach strolling, and searching out local farmers for a bushel of sweet potatoes. But one couple bummed around Southport and two couples took a private ferry to Bald Head Island where they used pedal power to explore. Then all too soon the vacation was over - see you next year!
Photos supplied by Dick, Sandy, and Art.