OUR LIFE IN NORTH CAROLINA
OUTER BANKS
The shortest way for us to go to the Outer Banks from Ash is to drive to Cedar Island and take the ferry to Ocracoke Island which is the southernmost large island of the Outer Banks. The ferry ride lasts 2 hours 15 minutes, but only cost $15.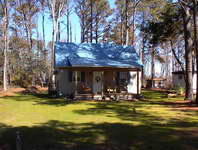 House on Cedar Island
OCRACOKE
| | | |
| --- | --- | --- |
| | | |
| Near Ocracoke there were lots of birds | Approaching Ocracoke | Ocracoke Harbor |
Ocracoke Lighthouse
"Wild" horses

A beach on Ocracoke Island
HATTERAS

Another ferry takes you from Ocracoke Island to Hatteras Island. This 45 minute ride is free!

Hatteras Lighthouse, at its new location.

Looking from the old location of the lighthouse towards the new location.
Most of Hatteras Island has shrubs or small trees.

In the fall of the year there are many fishermen.
The west side of Hatteras Island does not have beaches

There are some relatively old houses, but most are much newer (oops, forgot to take their pix).
Some beaches were almost deserted.

The rest of the Outer Banks are connected by bridges. For us, the most important feature of Pea Island is the Pea Island Wildlife Refuge. At the end of October there were a few birds, but winter time is the best time for birding.

Bode Island has the prettiest lightnouse we have ever seen.

We cut our Outer Banks mini vacation from the planned 4 days to 3 days because of rain. But even in the rain it was a good time to see the Orville and Wilbur Wright Museum.


LAKE MATTAMUSKEET

This is not part of the Outer Banks, but can be reached from Ocracoke via ferry. We found the wildlife refuge there to have even more birds than Pea Island on Hatteras.

northern shoveler





tundra swan