More NORTH CAROLINA BEACHS
CAROLINA BEACH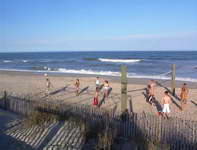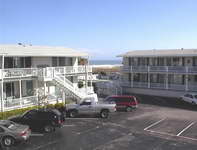 TOPSAIL ISLAND
Topsail Island, about 20 miles long, is located 10 miles (as the sea gull flies) north of Wilmington. It is close to 2 hours from Ash, NC. There are two bridges accessing the island. It has three towns: Topsail Beach, Surf City, and North Topsail Beach. For the entire length of the island there are lovely beaches. However at the northern end of the island, swimming is discouraged because of usually strong currents.

Of all the beaches listed on this page, Topsail beaches are the only ones that have interesting rocks. There are smooth glassy rocks which look as if they have just come out of a tumbler. We collect these rocks for walkways around the house. Photo 3 shows the Topsail Motel where we stayed duing a rock gathering expedition.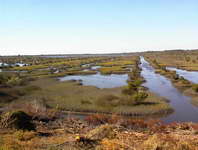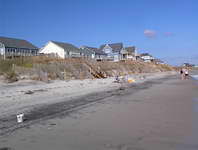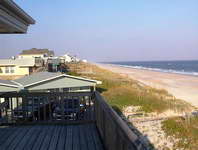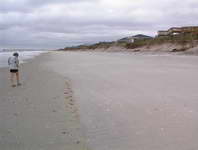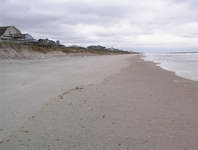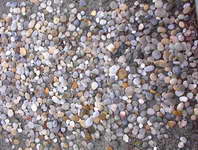 BOGUE BANKS
Bogue Banks is located between Wilmington and the Outer Banks. The island is about 30 miles long, with Atlantic Beach at the east end, Salter Path, Pine Knoll Shores and Indian Beach are located in the center and Emerald Isle on the west end.

It is the next vehicle accessible island beyond Topsail Island. When we visited in October of 2005 the beaches did not invite swimming because of many broken shells. This might have been a transient condition because of hurricane Ophelia. At the same time the beaches on Topsail Island were great. So perhaps Topsail Island is for swimming and Emeral Island is more for fishing - there were many fishermen along the entire coast.

In February of 2006 the beaches were still not as good (regarding fine sand) as we are used to near Ash. However, this time we were very impressed with the island. Bogue Banks is wider than most islands, more treed, and does not seem to have erosion problems. Put a house here and it will probably stay.

In 2007 we visited Pat and Harry Fluck at Atlantic Beach. Sandy was impressed with the beach for all the shells it had to offer, expecially lots of olives. Dick had a good time walking a couple miles to the east end where Fort Macon is located.
The houses below are in Atlantic Beach.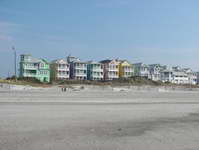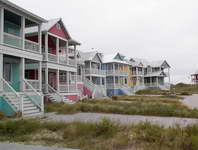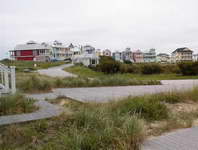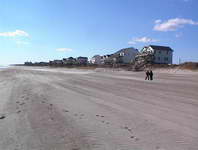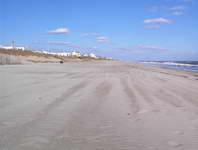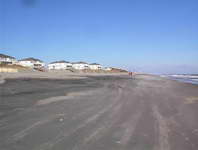 OUTER BANKS
The next substantial beaches are along the outer banks. These pictures are from
Ocracoke Island
.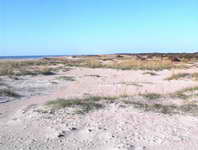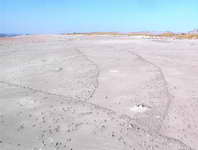 Taking a ferry from Ocracoke brings you to
Hatteras Island
.