479 Chase Road, North Sandwich, New Hampshire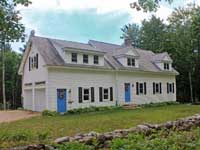 The house, which was built in 2000, is situated on approximately 60 acres. The land is primarily wooded, with interesting features scattered throughout the property.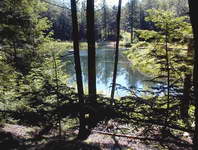 This 3/4 acre pond is almost a half mile from the house. It has a nice gravel bottom and is great for swimming. A white pine log has been arranged on the far banking to serve as a diving board. There is a large esker (see below) at the north end of the pond which helps to give the area a secluded feeling. A smaller esker is on south west side of the pond further adding to allure of the area.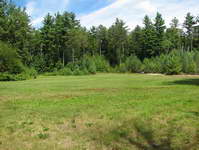 Since much of the propety is wooded, the field is a special area. In the springtime, it has lots of wild flowers, which are encouraged to propagated by postponing mowing. In winter, the smooth grassed area requires only a couple inches of snow to provide good cross country skiing even in November.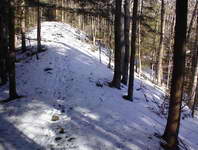 The esker is a narrow ridge with steep sides that was left by the glacier more than 10,000 years ago. It is a half mile long and up to 30 feet high! It is the most spectacular geological artifact on the property. To preserve the esker for future generations, a conservation easement has been donated to the Society for Preservation of New Hampshire Forests.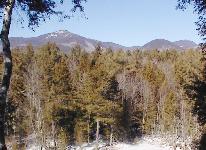 The esker offers a great view of Mt. Whiteface.
There are miles and miles of trails on the property. They are great for hiking and cross country skiing. All except the Esker Ttrail can be readily accessed by vehicles if so desired.