Back home we watched the snow accumulate, thought nostalgically of our time with Dick's cousins, Rosie and Phil, in Venice , Florida , and began to mull over the idea of buying a place down south. Dick had loved North Carolina on his visits there, so we narrowed our internet search to North and South Carolina , finding areas near beaches that we thought we'd enjoy. As we gathered sap for maple syrup and skied to put up the trail signs I gave Dick for Christmas, we'd escape down south by computer. In April we put all the planning to use and flew to
Charleston , South Carolina
where we met old neighbors, Bob and Jessica Hervey, who hosted us on both ends of our trip.
| | |
| --- | --- |
| | |

On our first day out we drove to Holden Beach , NC and met with a real estate agent Dick had contacted through the internet, Dwane Lane . He had lined up some places to show us, both small houses with a bit of land and larger land packages. By the end of the evening we had seen a small bungalow on 2 ½ acres and a 7+ acre package, both of which we liked and both of which had other viewers the same day. On the way back, when Dick asked me what I thought, I surprised myself by saying, "I could swing the house if you wanted to buy the property"- and by nine that night we were well on our way to agreements on both! Business done, we spent the rest of our time down south on vacation, checking out beaches and towns in the vicinity of Ash where we were both on our way to becoming property owners. By early June we were anxious to move some furniture into the bungalow in Ash, and left New Hampshire hauling a trailer that overflowed with necessities for the new house. We alternated working to make the house our home with walking beaches. We spent time at Dick's property too, walking it to see the lay of the land.
Back up north we spent the summer gardening, including gardens started from seeds gathered on our Scandinavian trip, and the usual veggies. I put my property in Andover , NH up for sale to get a bit of free money again, and we both continued with volunteer activities, Dick helping supervise the student trail crew as Trail Chair of the Wonalancet Out Door Club and me doing one afternoon a week at the town library. We spent the Forth of July with Rosie and Phil in Randolph , Vermont at their old fashioned parade and fireworks and had a great time with their family.
At the end of July we did a bike trip in the Laurentines in Quebec , riding a converted train trail called Le Petit Tren Du Nord. A van moved our suitcases from hotel to hotel while we biked our 30 miles per day, socialized with fellow club members, and ate great meals provided in the hotels each night. For the most part the trail was level with just one challenging uphill day, so it was a good feeling to do 125 miles in four days, while seeing the sights and picking blueberries and raspberries growing along the trail.

When we got back we had a quick turnaround, then flew to Washington State to attend a cousins' reunion with Dick's cousins on his father's side. Heather came with us to get to know that part of the family and see the sights. We spent a day with all the cousins on Mount St. Helen, watching elk and the occasional puff of steam from the mountain. One day we went to the Olympic Rain Forest, then spent the afternoon with my sister Marize and all of her family. It was great to meet all of the newest generation, catch up on news, and have a picnic in their son's lovely back yard. The remainder of the time on the West Coast was spent enjoying life at a beautifully landscaped RV Park on a lake, where I jet skied, very erratically, for the first time. We spent our last day in Portland with Heather, seeing the science museum and preparing to say goodbye to her as she continued on to China for the college year.
My old friend Carolyn, from my England teaching years visited us with her husband, Larry, and it was fun hiking with them and talking about old times. They wanted to see a moose, but unfortunately we didn't have a visit by one until the next week, when he spent several days enjoying the pond, ignoring us.
We headed back to North Carolina in mid September, to get down to the actual business of fixing up the house. We had workmen put insulation under the house, cut holes and install pipes for a woodstove (which we're bringing down on our next trip), and put skirting around the house. But we spent a lot of time painting, working on the yard, and clearing trails on Dick's property- gathering wood to burn in the woodstove in the process. We walked a lot of beaches and collected thousands of lovely round sea polished rocks at Topsail Beach that we've used to pave front and back walks. We put together a shed to house Dick's down-south riding mower- one of two he bought this year- and our bicycles. We took two short trips, visiting Topsail Island and the Outer Banks and went to Shrimp and Pecan Festivals. And we found, to our delight, that we had four pecan trees around the house.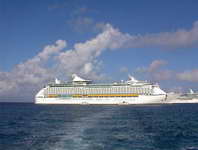 In November I took a cruise with old friends from my first year of overseas teaching as they celebrated their Fortieth Wedding Anniversary. We sailed to Belize , Grand Cayman Island , and Costa Maya , Mexico and did cave tubing, snorkeling, and saw Mayan Ruins. I roomed with my old roomie, Pat, and enjoyed seeing Bobbi and Walt, the anniversary couple, and Joe, another old friend from way back.
Our children continue to do well. Christy changed jobs and is now a counselor in a Middle/High School in Milton NH, hoping to start a private counseling practice afternoons and summers. She and John have bought a condo in Kennebunk , Maine and adopted a puppy together. Rob finished his degree and is moving along. Heather continues to enjoy her studies in China and we'll visit her in March. Rick sold the first house he refurbished and is working on another, and Michelle and the children are doing well. Cindy has moved to an apartment closer to her work at Electronic Arts in San Francisco and seems happy.