In May we went on a bike and barge trip to France that Dick organized for a ski and sport group we belong to. After a change of both the barge and the itinerary (from the Loire area to Provence and from a basic barge to a more classy one) we spent a day touring Paris then were bussed to the Barge. We had a lovely time biking through charming small villages and eating great meals while we cruised the canals and rivers, seeing flamingos, wild white horses and small black bulls along the shores. We stopped at a great walled city, at lavender and olive oil pressing companies, and at beautiful chateaus. We had tours of Arles and Avingnon. When we reached our destination on the barge, we spent two more days in Paris visiting art museums and soaking up the atmosphere.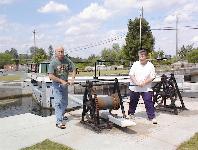 In June we spent a week with Dick's brother Dave and his wife Linda, boating and touring the upstate New York area where they had their new 'river house.' We boated to islands and toured the Hershey Chocolate factory in Canada and generally enjoyed ourselves.


September found us taking a trip in honor of Dick's mom, to Scandinavia which she had enjoyed more than any other trip she had taken. We found it fairly inexpensive to get a bargain flight to London then take 'hops' on the small airlines first to Oslo then back from Copenhagen at the end of the trip. In between we made good use of the Scanrail Pass we had and found using the trains both fast and efficient. We loved the fiords in Norway and the city of Bergen on the coast as well as the sights of Oslo , including Viking Ships, the Open Air Museum of old buildings, and the sculpture in Frogner Park .
From there we went first to Goteborg in Sweden , then on to Stockholm where the Old Town or Gammla Stan was wonderful for wandering. Our last night in Sweden was spent in Kalmar with its great old castle used to defend the Swedes from the dreaded Danes.


We spent our last five days with Copenhagen, Denmark as our base. We explored the Resistance Museum , Art Museum, and many palaces, wandering through great open markets, checking out the hippie free community of Christiania and paying our respects to the Little Mermaid. We took day trips to Odense to the Hans Christian Andersen Museum and to the Louisiana Modern Art museum . Then it was back to London for two days, seeing The Lion King and The Phantom of the Opera, and wandering through our favorite museums once more.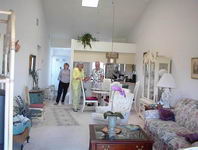 Now we've just returned from a wonderful week in Florida with Dick's cousin Rosie and her husband Phil. We beach combed on many beaches and enjoyed the sunshine, wonderful flowers and amazing wildlife including storks and ibises that came to their neighbor's back door begging for food. We did a canopy walk over the treetops, visited the Ringling Museum , saw people rehabilitating injured sea animals like turtles, manatees, and porpoises and generally loved the sights and warmth.
Our families continue to do well. Christy fulfilled her supervision requirements and passed her licensing test and is now officially a licensed therapist, working in a mental health clinic in Kittery , Maine . Her new boyfriend John is the director of an ecological agency focusing on Atlantic Salmon. Rob still enjoys being in New London , back to his roots.
Dick's daughter Cindy is still happily working for Electronic Arts, traveling to exotic locations on ther behalf and loving life in California . His son Rick has bought a house and is busily restoring it for sale. Ricky and Randy are in second and first grade respectively and Michele is working as a high school gym teacher assistant and enjoying all the kids and exercise. Heather is at Brown and plans to stay there this spring before wanderlust inevitably hits her again and she goes off on another educational experience on some other continent. Ah, youth!